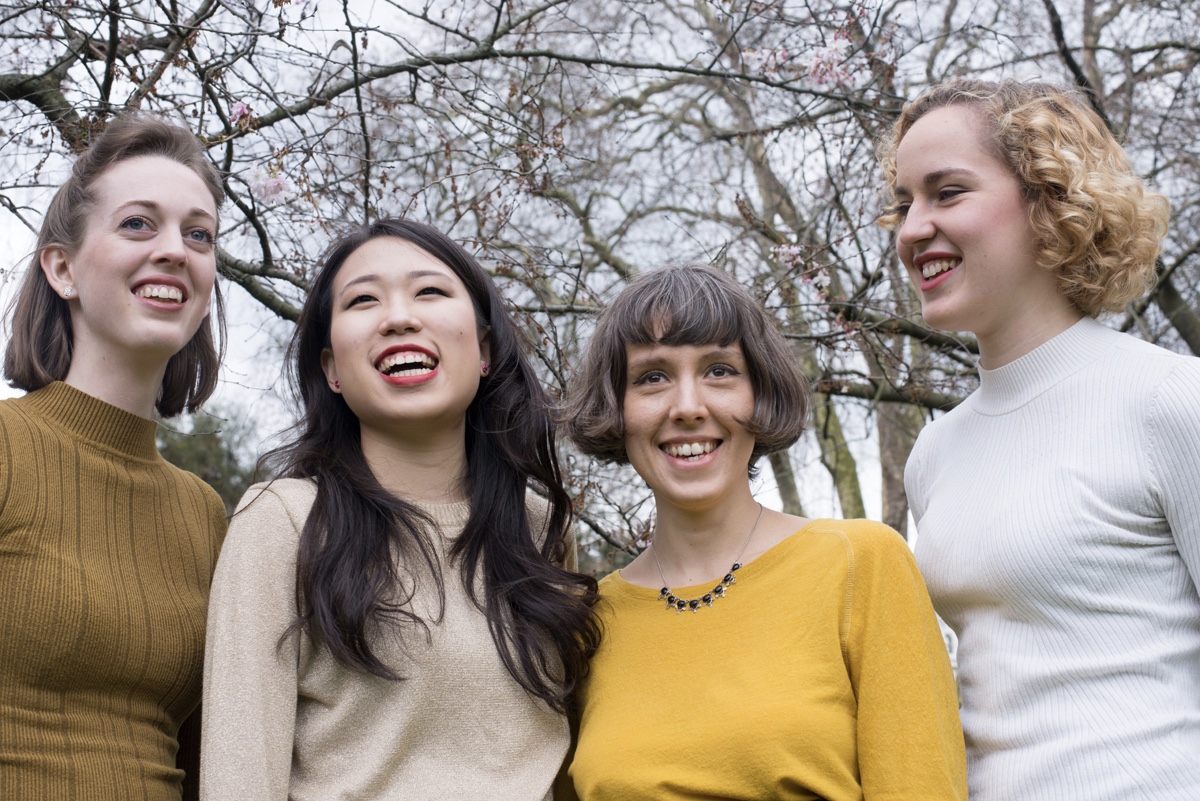 Eva de Vries, Janell Yeo - violins :||: Rachel Maxey - viola :||: Felicity Smith - cello
"I'm really excited by the Bloomsbury Quartet and am convinced that they will soon become a name on the classical music circuit. They are forward-thinking with big ideas, but also when they play, you get a real sense that they are on a mission to share their love of music with their audiences. Truly a group to watch out for."
- Clare Norburn, Artistic Director, Stroud Green Festival
The Bloomsbury Quartet was formed in September 2017, when Eva and Felicity met while chamber music speed dating. Rather than the usual first-date awkwardness, they wished the 20-minute time slot would never end! Two was great, but four is so much better; Janell and Rachel joined in and they have not looked back since!
In addition to winning the 2018 Stroud Green Festival's Ensemble Scheme, the quartet commemorated the centenary of the First World War at China Exchange in London's Chinatown, the Isle of Wight, and the Petworth Festival. More recent highlights include performing in the Lake District Summer Music Patron's Series and as finalists of the 2019 St Martin-in-the-Fields Chamber Competition, being chosen as 2019-20 Making Music Selected Artists, and debuting on BBC Radio 3's In Tune.
As the 2018-19 Wigmore Hall/Open Academy Fellowship Ensemble, the Bloomsbury Quartet played a major role in facilitating Wigmore Hall's Learning programme: They worked with and positively impacted more than a thousand people of all walks of life across London and beyond, performed publicly on the Wigmore Hall stage three times, and gave the world premiere of a brand-new string quartet, written especially for them, by the Wigmore Hall/RPS Rosie Johnson Apprentice Composer, Daniel Fardon.
The 2019-2020 season will see the Bloomsbury Quartet embark on their first UK tour with ReCentred, a concert experience inspired by the life and works of Elizabeth Maconchy, supported by the Ambache Charitable Trust and RVW Trust..
As soloists, the members of the Bloomsbury Quartet won competition prizes in the Netherlands, Singapore and the UK. Individually, they are also recipients of the Marylebone Student Award, Howard Davis Scholarship, John Booth Prize, the HSBC Youth Excellence Award, and the Diana Award; all in recognition of their talent, dedication to music making and ability to communicate and share music with others. As orchestral musicians, they have played with the Britten Sinfonia, Rotterdam Philharmonic and Metropole Orchestra, and taken part in the CBSO String Training, Oxford Philharmonic Apprenticeship Scheme and Birmingham Royal Ballet Apprenticeship Scheme.
Eva, Janell, Rachel and Felicity are all passionate about inspiring and developing current and future generations of musicians and music-lovers. They believe that by combining participatory projects, alternative concert formats, and social media, they can successfully engage new and returning audiences alike. The Bloomsbury Quartet received regular coaching from Levon Chilingirian (Chilingirian Quartet) and Jon Thorne (Badke Quartet), and have also been coached by Hartmut Rohde, the Doric Quartet, Jim Sleigh, Michael Bochmann and Leandro Silvera.
Eva plays a Giovanni Rota (Cremona 1808) violin, kindly on loan from the Royal Academy of Music. Janell plays with a Jean-Thibouville-Lamy "Sarasate Virtuose" bow, sponsored by the Royal Philharmonic Society's Sir John Barbirolli Memorial Foundation.